The Swan
Slaithwaite - Friday 31st August 2007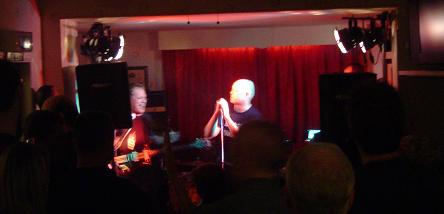 Click each thumbnail below , use our Pictureshow or go back to Main Gallery.
Pic of the gig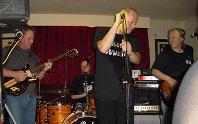 Gig Review
Well, we all got to the Swan in a really eager mood as this was the first gig with our new lineup (Andy Davies on drums and Rick D'zyre on vocals). All our rehearsals had been going great so we were itching to get on.
It was pretty cramped inside but it's always heaving and has a great atmosphere. It didn't take long for everyone to get into it. All our ladies were there too which is always an excellent boost. They're usually the first to get up and dance.
We hadn't quite got our planned fancy opening polished up so we started with a fast funky version of Deep Purples 'Hush' immediately followed by 'Abacab'. The pub was already buzzing at this point. We followed with a number of ace classics ending with U2's 'Vertigo'. Time for a quick pint.
Rick's parents were there as they lived just round the corner and a big group of his fire service mates were huddled at the back just about finding room. Our old drummer Neil Darnborough and Bandofoz frontman Oz ahd come to heckle too. They seemed to thoroughly enjoy the show, to the point where I think Neil wished he hadn't left !!!
We got stuck into the second set, opening with Chilli Peppers and Green Day which got 'em all singing and even louder with 'Ruby'. We then threw in a handfull of classics like 'My Sharrona' and 'Turning Japanese'. We also did a slightly longer version of a blur track we called 'Song 4' !! Basically 'Song 2' twice as we tough it was too short. We eventually ended after a few encores to 'Born to be Wild'.
All in all a great night and a fantastic venue. Thanks too to all who came along and also all the bands' ladies who danced their little hearts out and took our gallery piccies too. Hope to see you all again soon.
Munzi
---
The setlist for the evening was ;
Hush
Abacab
Jumpin Jack Flash
Living after midnight
Fell like making love
Boys are back in town
Black night
Vertigo
By the way
American idiot
Ruby
Message in a bottle
My Sharrona
Turning Japanese
Spirit in the sky
Just what I needed
She sells sanctuary
Rebel Yell
Song 4 !!
Born to be wild