Rockjunkies history so far !!
Well, here we are - and what a bunch. We formed in April 2007 as a four piece, all from ex members of Bandofoz. We play rock greats through all era's whilst avoiding the usual old drudge that a lot of rock covers bands seem to churn out.
Due to the amazing type of tracks we were covering we then added Ricky D'zyre on vocals to become a five piece.
Since then we've had a couple of changes on drums too from Neil Darnborough to Andy Davies and then finally John Martindale (ex jagged edge).
Our latest band members include Teri Horton who replaces Rick on vocals and Lorna Bursell replacing Craig on bass. It's certainly an energetic line-up so come along and enjoy. We certainly do !!
munzi
Crew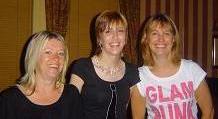 Thank you
There are a few other people who help out behing the scenes who deserve a mention.
A big thank you to :-
Jen , Louise and Lindsay (above)
Neil Darnborough (our original drummer)
Andy Davies (our 2nd drummer)
Ricky D'zyre (our old singer)
Craig Jackson (our old bass player)