The Peacock
Leeds Road, Huddersfield - Saturday 15th September 2007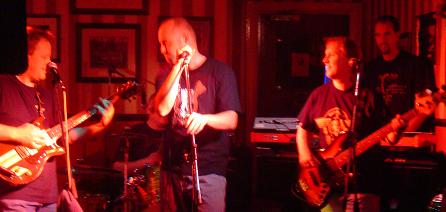 Click each thumbnail below , use our Pictureshow or go back to Main Gallery.
Pic of the gig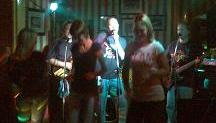 Gig Review
The Peacock on Leeds road is a regular music venue with a good discerning music crowd so we had to put on a good show. The stage area is relatively small but gives out a big sound. Andy had even brought his smoke machine too just to add a bit of rock !!
We kept our opening from the previous gig which was a cracking version of 'Hush and 'Abacab'. The only difference was the addition of Squeezes 'Another nail through my heart'. We like putting in tracks that other bands don't really cover.
So, after a string of great classics we ended with one of our favourites - Vertigo (U2).
What did our muso audience think. Well, they loved it but it was commented that we were still doing more oldies than we needed. Good point. They certainly wouldn't worry about that in the second set though !!
Part 2 - Loads of newer songs this time. We had stuff from Chilli Peppers, The Knack, The Police, The Kaiser Chiefs to name but a few. The crowd definately liked this choice of tracks more. We did a normal length version of 'Song 2' this time as we snazzed it up in our last gig to last longer.
All in all our audience were ace and it was good to get appreciation from hardened gigging musicians. Anyway, so much for our newer songs as we got a request for 'Smoke on the water' !!!! Well, we couldn't say no really. It had been 20 years since most of us had played that one but what the hell !! It was ace in the end !
Another good gig, again with all the bands' ladies present we got plenty of dancing (and picture taking). Many thanks to all who came along. See you all at the next one !
Munzi
---
The setlist for the evening was ;
Hush
Abacab
Jumpin Jack Flash
Living after midnight
Fell like making love
Boys are back in town
Another nail in my heart
Black night
Vertigo
By the way
American idiot
Ruby
Message in a bottle
My Sharrona
Turning Japanese
Spirit in the sky
Just what I needed
She sells sanctuary
Song 2
Born to be wild
Smoke on the water !!
Rebel Yell