Shepley Cricket club
Shepley - Friday 26th October 2007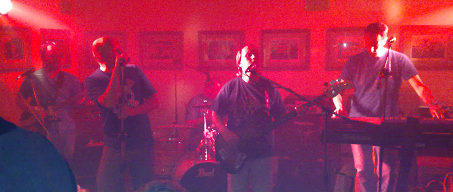 Click each thumbnail below , use our Pictureshow or go back to Main Gallery.
Pic of the gig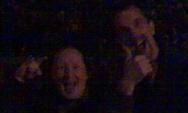 Gig Review
Well, Shepley Cricket club took a bit of finding and I think we all took turns in driving past the entrance !! It felt like it was in the middle of nowhere but, once inside and set up the little club was full and turned into a great gig.
Our first set had quite a few oldies in it which went down well. The sound was really good too as it was basically a cardboard box with no horrible echoes, although I'm sure the whole valley could hear us !
We opened the first set with a speedy version of Hush (like Kula Shaker did, but more funky) and it immediately got everyone in the mood. We followed it with Abacab which seemed to go down well too. Not many are bands playing that so it's a refreshing change to all the usual banged out rock numbers. The band too were really enjoying themselves and the first set eventually ended with one of our favourites - Vertigo (U2).
Then came our favourite part of the show - the whole 2nd set !! We've got a great mix of tracks like By The Way, My Sharrona and Turning Japanese. American Idiot and Ruby definately got em' all singing and Rick had handed out a tambourine for one bemused young lad to join in.
All in all our audience were great. They all thoroughly enjoyed it and shouted for plenty more. A surprisingly goog venue for it's size. We eventually ended with a cracking version of Rebel Yell.
A big thank you to our host Ian Watkinson for a great night.
As it turned out this was to be the last gig for our drummer, Andy Davies, as a few months later he was wisked away to join Bandofoz ! Such is the quality of our band members we even get head hunted !
Munzi
---
The setlist for the evening was ;
Hush
Abacab
Jumpin Jack Flash
Living after midnight
Fell like making love
Boys are back in town
Another nail in my heart
Black night
Vertigo
By the way
American idiot
Ruby
Message in a bottle
My Sharrona
Turning Japanese
Spirit in the sky
Just what I needed
She sells sanctuary
Song 2
Born to be wild
Rebel Yell