The Alma
Linthwaite - Saturday 30th August 2008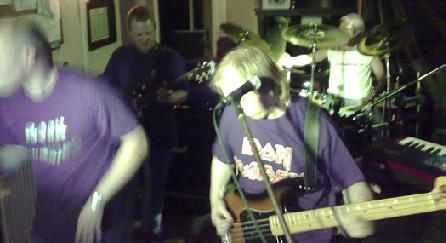 Click each thumbnail below, use our Pictureshow or go back to Gallery.
Pic of the gig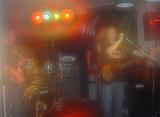 Gig Review
Well, it's been a while since we last played but this one brought us back with a bang and, was probably our best gig to date.We're at The Alma in Linthwaite this time and this was the first with our new drummer John Martindale. By the time we got on the pub was packed with people spilling out onto the streets. Lots of people were there that we knew too including various musicians from Thunder Bridge, Fabulous Rocking Sturgeons and Lazy Fish.
We kicked off with a daring Genesis medly which had been a nightmare in rehearsals but we nailed it perfectly which put big beaming smiles on all our faces. That was followed by a couple of nice melodic tracks before blowing everyone away with 'Out in the fields'. A couple of classics then took us to Van Halens' 'Why can't this be love' which Dave started in the wrong Key !!! Not many people noticed though as he hastily got it changed. Vertigo took us to a well earned beer break !
We had a whole host of birthdays to announce including Bev's 30th (wife of Fabulous Rocking Sturgeon - Mick).I will mention at this point that we were struggling with our stage sound mainly because the playing area has a stone floor !! It didn't affect our enjoyment though, we were rocking by now. We were getting some nice comments and thumbs up from some of the musicians especially for By the way, Message in a bottle and My Sharrona. We closed with a very heavy 'Word Up' but encored with 'Rebel Yell' and a speedy 'Hush'.
What a great gig. Appart from poor old John who couldn't hear much back there on his drums we all had a great time. Our hosts Peter and Laura loved it too and they had lived through most of our rehearsals down in their basement. We even got to show off our new backdrop too. Bring on the next one !!
Munzi
---
The setlist for the evening was ;
Behind the lines
Abacab
Shes not there
Zephyr
Out in the fields
Feels like making love
Jumpin Jack Flash
Why cant this be love
Vertigo
By the way
American Idiot
Hysteria
Message in a Bottle
Chinatown
My Sharrona
Turning Japanese
Just what I needed
Word up
Rebel Yell
Hush