The Bridge
Longroyd, Huddersfield - Sunday 11th January 2009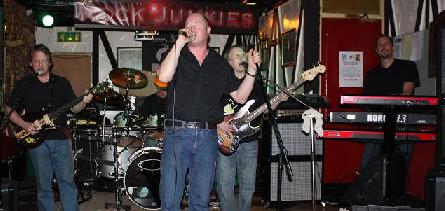 Click each thumbnail below, use our Pictureshow or go back to Gallery.
Pic of the gig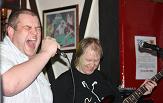 Gig Review
Once again we had a good crowd filling out this bikers pub. Definately into their rock here. We were going to be introducing some more new songs soon but decided what the hell and put 'Buck Rogers' straight in. Our singer wasn't even at the last rehearsal so Craig sang it instead. It instantly became one of out favourites !
As we were playing 'Feels like making love', 'Black Night' and 'Jumpin Jack Flash' for the last time we gave em a good sending off. We also did a cracking version of Whole Lotta Rosie. It's not a number we rehearse but we keep getting requests for it so, as it happened, Steve (singer from The Sellouts) came up and gave it full bananas. Would have made Bon Scott proud I reckon !
We even had a semi power-cut during 'My Sharona'. We lost keyboards and bass but still had guitar and drums though. All in all another ace night. Hope those of you who were there enjoyed it as much as we did. See you at the next one.
Munzi
---
The setlist for the evening was ;
Behind the lines
Abacab
Shes not there
Zephyr
Out in the fields
Feels like making love
Jumpin Jack Flash
Why cant this be love
Vertigo
By the way
American Idiot
Hysteria
Buck Rogers
Message in a Bottle
Chinatown
My Sharrona
Turning Japanese
Just what I needed
Word up
Rebel Yell
Hush
Whole Lotta Rosie
Black night