The Royal Oak
Linthwaite, Huddersfield - Saturday 14th February 2009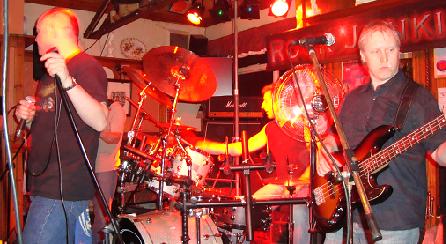 Click each thumbnail below, use our Pictureshow or go back to Gallery.
Pic of the gig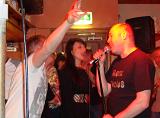 Gig Review
The Royal Oak is another regular venue for us. Always fetches a good crowd too. The wonderfull Bob and Jeanie are the hosts and we always like to put on a good show for them. We tried to set our gear up so that Dave wasn't stood over the burning fireplace this time too !!
We opened with some new songs, Pink Floyds 'In the flesh' going straight into Van Halens 'Aint talking about love'. Also on the new list was Whitesnakes 'Fool for your loving' and another Muse track 'Time is running out'. Were making a habbit of regularly introducing as many new songs as possible now. Certainly keeps us on our toes !!
Of course, our second set is full of ace tracks including the recently introduced 'Buck rogers'. Again ending with a rockin version of 'Word up' by Gun and encoreing with 'Rebel yell' and a very speedy 'Hush'.
We did have a very drunk admirer at one point but it didn't get too silly. He seemed happy enough. Again we all thoroughly rocked and loved it as usual. A big thank you to Lindsey (Daves missus) for doing the sound and lights too.
Munzi
---
The setlist for the evening was ;
In the flesh
Aint talking about love
By the way
American idiot
Shes not there
Fool for your lovin
Out in the fields
Why cant this be love
Time is running out
Vertigo
Behind the lines
Abacab
Hysteria
Buck Rogers
Message in a Bottle
Chinatown
My Sharona
Turning Japanese
Just what I needed
Word Up
Rebel Yell
Hush