Private Wedding
Headingley, Leeds - Saturday 11th April 2009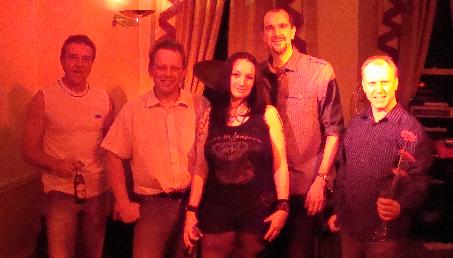 Click each thumbnail below, use our Pictureshow or go back to Gallery.
Pic of the gig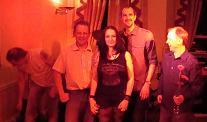 Gig Review
Well, this was certainly an interesting gig. We don't normally do weddings but The lucky couple were work colleages of Dave our keyboard player so we made an exception. When we arrived they were still doing the last few speeches etc so we had very little time to set up our gear ! This also meant that we had to drop quite a few songs as it was a posh hotel and we had to be finished by 11pm.
Having said all that we still rocked a good set and this was the first gig for our new singer Teri Horton who did an ace job with such few rehearsals. Nice one Teri. Shes brought a bit of liveliness to the band too as shes a bit younger than us old gits.
We were a bit weary at first being a wedding etc but in the end people loved it, thank goodness. We brought back 'Feels like making love' too as the bride asked us for it and were going to resurect 'Jumpin jack flash' but ran out of time. A handfull of people took to the Muse tracks big time too. We also had a quick pause while they cut the cake and finished up with a rockin 'Word up'.
All in all it was a good night and we then had to pack down double quick time as breakfast tables were being laid out around us !!
Munzi
---
The setlist for the evening was ;
In the flesh
Aint talking about love
By the way
Feel like making love
Shes not there
Fool for your loving
Out in the fields
Why cant this be love
Time is running out
Vertigo
Abacab
Hysteria
Buck rogers
Message in a bottle
My sharona
Word up