The Swan
Crimble, Slaithwaite - Friday 29th May 2009
Click each thumbnail below, use our Pictureshow or go back to Gallery.
Pic of the gig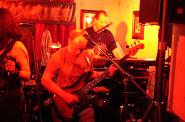 Gig Review
We'll here we are back at the Swan again. You always get a good crown here. This was Craig's final gig before moving on to pastures new so we tried to make it a good one.
This was our last performances of American Idiot, Chinatown, My Sharona and Turning Japanese for the time being as we had a load of new songs lined up.
It was an extremely hot night as there was a heatwave in mid flow so we all had cooling fans going ! We also saw a few familiar faces in the crowd including Lorna, our new bass player to be. Also a couple of Fiery Biscuits were there too and our old drummer Andy and our old singer Rick showed their faces.
All in all, another rocking gig with a good crowd. See you all here next time.
Munzi
---
The setlist for the evening was ;
In the flesh
Aint talking about love
By the way
American idiot
Shes not there
Fool for your loving
Out in the fields
Why cant this be love
Time is running out
Vertigo
Behind the lines
Abacab
Hysteria
Buck rogers
Message in a bottle
Chinatown
My sharrona
Turning japanese
Just what i needed
Word up
Rebel yell
Hush
Jumpin jack flash