The Green Cross
Moldgreen, Huddersfield - Friday 5th June 2009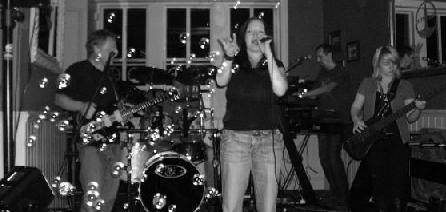 Click each thumbnail below, use our Pictureshow or go back to Gallery.
Pic of the gig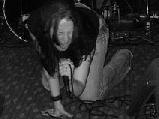 Gig Review
What a day - We were so glad when we actually got started as we had quite a few problems beforehand with vehicles !! We still managed to start on time though, phew.
This venue was another first for us - Nice room too, almost custom made for bands !
We got stuck into our heavy numbers straight away and that went down well as some of Teri's gang were in. Even the normal bar leaners were having a good ol' nose.
Lorna was settling in too as it was still relatively new to her. Lindsay even managed to get the buble machine plugged in during the rush to set up - nice one linds.
Another good rocking gig. Not bad as it was lashing it down outside !
Munzi
---
The setlist for the evening was ;
In the flesh
Ain't talking about love
From out of nowhere
Just what I needed
Shes not there
By the way
Why can't this be love
Time is running out
Higher ground
Behind the lines
Abacab
Breakout
Fool for your loving
Out in the fields
vertigo
Hysteria
Message in a bottle
Buck rogers
Word up
Rebell Yell
Hush