Victoria Park
Meltham - Saturday 20th June 2009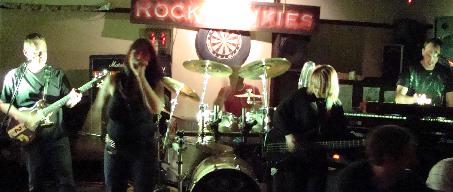 Click each thumbnail below, use our Pictureshow or go back to Gallery.
Pic of the gig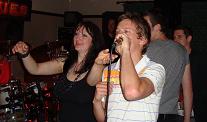 Gig Review
This was the first time weve played the Victoria Park so we were all wondering what kind of a venue it would be. It was certainly very lively when we arrived with a young audience.
We started a little later than usual as they stayed open fairly late. This was the introduction of Lorna, our new young bass player. We also had a few new songs too. Faith no more, Foo fighters and more Chilli Peppers were all in.
We actually had an early break for a male strippergram to help someone celebrate a birthday!! We soon resumed rockin though. Teri had everyone joining in with Message in a bottle, My Sharona and By the way (which we played twice as we kept getting requests for it).
Judging by how rowdy it got I'd say everyone enjoyed themselves. Nice one. Hope to see you next time.
Munzi
---
The setlist for the evening was ;
In the flesh
Aint talking about love
From out of nowhere
Just what I needed
Shes not there
By the way
Why cant this be love
Time is running out
Higher ground
Behind the lines
Abacab
Breakout
Fool for your lovin
Out in the fields
Vertigo
Hysteria
Message in a bottle
Buck rogers
Word up
By the way (again)
Hush